I'm getting out a few blog posts before I go on a two and a half week hiatus. The first thing I want to share with you is about the Rad Fat Philly FleshMob that happened on July 11, 2009.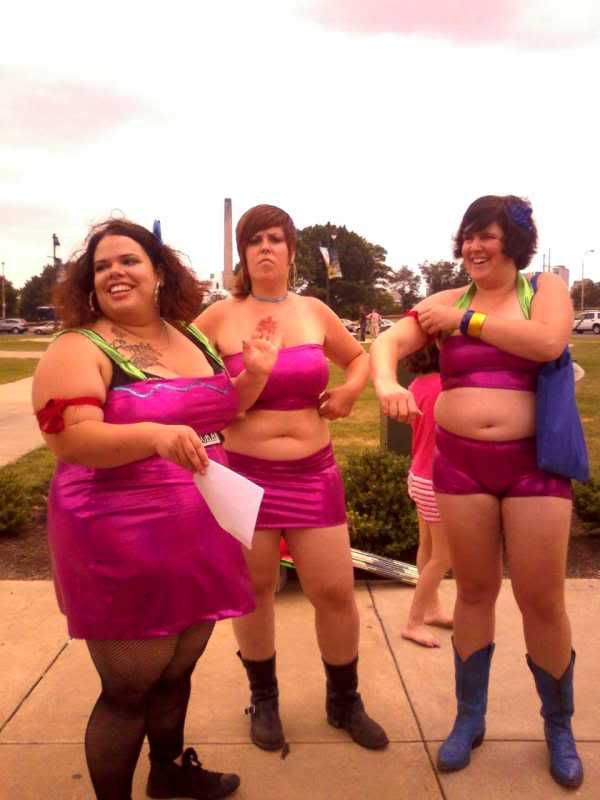 It was planned by L-R Becka, Sarah J a/k/a Jamison and Eileen. A truly foxy group of radical queer fat femmes.
Billed as the "Fattest Day of the Summer" it was 3 radical fat events.
First, a flash mob, or rather a FLESH mob. The idea is that we'll gather at the Philadelphia Art Museum, where scantily/flashily/fabulously clad self-identified fat folks will run, walk, skip, waddle, ride, saunter, sashay, etc. their way to the top of the famous stairs, Rocky style. Fat folks who don't do stairs can be waiting at the top for the mob. All of this while allies are cheering, holding signs, and handing out fat liberation literature. This action is going to be filmed for our fat queer documentary. The key word here is FLASH — this is going to be very quick so don't be late or you'll miss all of the fun.
They followed it up with a cheap BBQ and cheap dance party in West Philly. Glenn Marla was there in a pair of halter shortalls he's turned into an amazing jumper style dare to bare magic outfit!

Glenn is pictured here with Sequinette, a performer from NYC. Photo by Erika Nakamura from the Banned! party.
The FleshMob was, by all accounts, absolutely FLABULOUS.
Hottie Shoog McDaniel, photographer and DJ, documented the event and was kind enough to share a link to a slideshow with me. Can you even handle how amazing it was?
I'm interviewing Sarah J for the podcast about planning the event. You should plan a Fleshmob in your hometown!